Dr Karen Ventura is the 100th woman to earn her designation as a WINS Academy Certified Nuclear Security Professional. Dr Ventura is a Programme Manager at the National Nuclear Security Administration's (NNSA) Pantex Plant in the US. She works within the Global Security and Strategic Partnerships division, which is accountable for planning and management of nuclear non-proliferation and global security programmes.
Why did you decide to enrol in a WINS Academy learning programme?
I was accepted into the NNSA Graduate Fellowship Program for my post-doc. During the fellowship, I worked in the NNSA Office of Defense Nuclear Nonproliferation Research and Development. In August 2019, I joined the Consolidated Nuclear Security family at Pantex, beginning my second year in the nuclear security sector.
When I first started the fellowship, I was fascinated by the nuclear security world, however, my scientific expertise was in another field. To help prepare us more, the fellowship coordinators introduced us to the WINS Academy learning programmes. I was delighted to be awarded a scholarship, which led me to getting my certification.
"Never stop learning; the world never stops changing."
How did you choose the elective module Nuclear Security for Scientists, Technicians and Engineers?
I chose the module Nuclear Security for Scientists, Technicians and Engineers because of my technical background and the nature of my job, which includes a fair amount of scientific research.
If the opportunity is presented, I will continue to take the remaining modules of the WINS Academy programme.
How have you put into practice the material you learned in the course?
CNS plays an integral role in helping the US sustain a strong nuclear deterrent and develop capabilities to neutralise global nuclear threats through unique security and non-proliferation research. The material I learned at WINS serves as useful guidance to produce safer and more secure outcomes.
What did you find most rewarding about the certification programme?
The most rewarding part of taking the certification programme was learning the information. The material is very clear, and it helps you make a connection with your everyday work. I was always excited to learn new perspectives, not only from the United States, but from around the world.
"We all have different backgrounds and expertise; we all have something to contribute. Let our differences make us stronger."
What advice do you have for current Academy learners?
Our mission, as Academy learners, is to make the world a safer place. Knowing and learning the most we can about our trade will result in high quality outcomes. Never stop learning; the world never stops changing.
How has being a woman in the field impacted your career, and do you have a message for other women entering or working in the sector?
Despite nuclear security being a male-dominated field, my experiences have been positive. During my time in the NNSA and at Pantex, I often find myself surrounded by male co-workers. However, my opinions are always heard and my suggestions taken. At the end of the day, we are all professionals with a lot to offer to the mission.
Nonetheless, we women in this field are an example of courage, hard work and perseverance. We have broken barriers that in the past were deemed unbreakable. We should never forget that we are role models for young women in STEM [Science, Technology, Engineering and Math].
In your view, how can gender balance strengthen nuclear security?
In my opinion, we are at a point in time where we can and should look past gender prejudices and focus on what matters. In this case, we all want a safer world. We all have different backgrounds and expertise; we all have something to contribute. Let our differences make us stronger.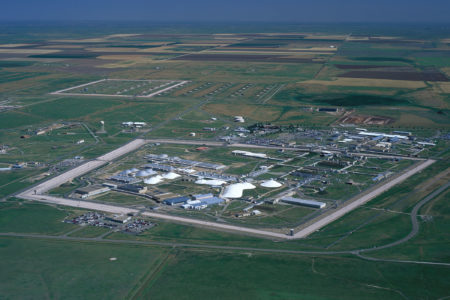 About CONSOLIDATED NUCLEAR SECURITY and PANTEX: The Pantex Plant, located northeast of Amarillo, Texas, is the primary facility in the US for the final assembly, dismantlement and maintenance of nuclear weapons. Pantex is one of six production facilities in the National Nuclear Security Administration's Nuclear Security Enterprise. Consolidated Nuclear Security, LLC manages and operates the facility along with the Y-12 National Security Complex in Tennessee under a single contract from the US Department of Energy/NNSA.
Since 1975, Pantex has been the nation's primary assembly, disassembly, retrofit and life-extension centre for nuclear weapons. The last new nuclear weapon was completed in 1991. Since then, Pantex has safely dismantled thousands of weapons retired from the stockpile by the military and placed the resulting plutonium pits in interim storage.