Background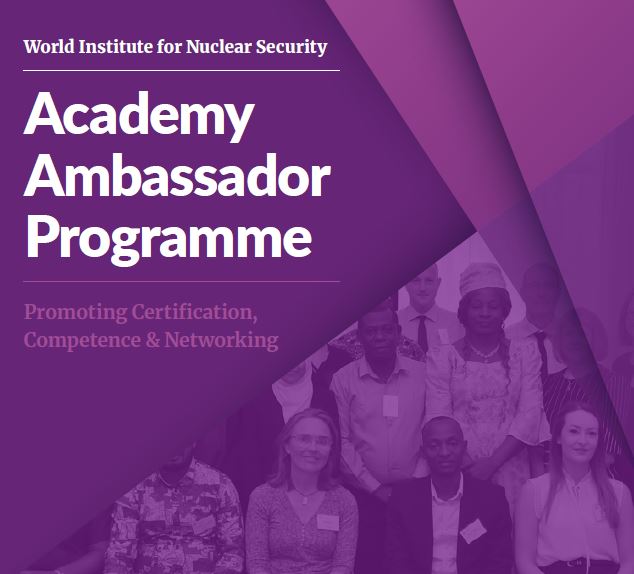 The WINS Academy Ambassador Programme has been redeveloped in 2020 based on feedback from the Alumni Networking Event held in 2019. At that event, the Ambassador Programme was discussed, and strong support was voiced from alumni for the Ambassador Programme to continue to promote certification to other professionals working in nuclear and radioactive source security, while also focusing on institutional support for ambassadors and learners.
WINS now has 32 new ambassadors representing a total of 24 countries, so that the WINS Academy Ambassadors can:
Promote the WINS Academy programmes within their institution and professional network within their country and region
Connect with relevant individuals within their country/region for workshops, training and other events
Actively contribute to the Ambassador Platform, leading discussions on forums and contributing to publications/blogs with full recognition of authorship
Objectives
The purpose of the webinar was for the 32 WINS Academy Ambassadors to have the opportunity to collectively meet and discuss their ideas for getting the best out of the Academy Ambassador Programme.
The webinar was facilitated by Roland Fletcher, WINS Academy Manager, and Whitney Kathryn Isaacs, Academy Assistant.
The webinar included the following sessions:
Special guest for the webinar, Ms Jean Llewellyn OBE, WINS ND Board Member, who reflected on the important role ambassadors can play to promote and encourage collaboration and engagement
A joint ambassador speaker session by Ms Lourena Corrêa and Mr Gilberto Goncalves de Abreu
An ambassador panel session, with Dr Alpana Goel, Ms Stacy Snook and Mr Richard Sseggane
Report on the pre-workshop survey, by Roland Fletcher and Whitney Kathryn Isaacs
Closing summary by Roland Fletcher
Reference materials
In preparation for the workshop all ambassadors were asked to complete a pre-workshop survey.
How to register to the webinar
This event was by invitation only. Registration details were provided separately for all ambassadors.
Date: Thursday, 12 November 2020, 16:00 to 17:15 CET (15:00 to 16:15 GMT)
Duration: 75 minutes
Language: English
If you have any questions, please contact: Mehri.Avlyakulova@wins.org